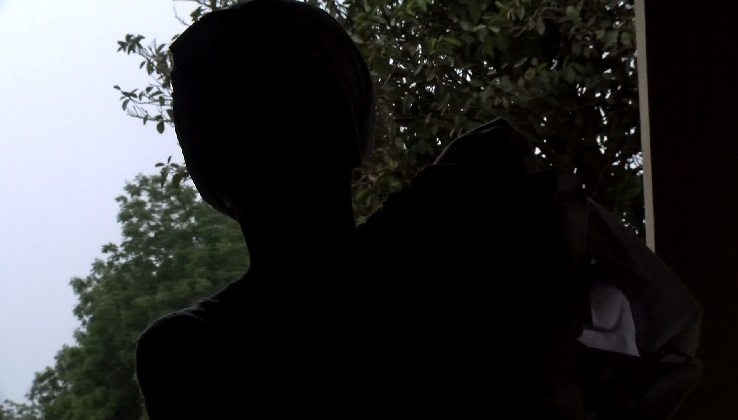 Gina, not her real name, is 17 years old and in her final year of high school.
She gave birth barely two weeks ago.
She had come home for vacation and got pregnant.
"The guy proposed to me in April, so he asked me to visit him at his house, and I went. The first affair he had with me, I found out the next month, May, when I didn't have my menstruation, so I knew I was pregnant but my stomach wasn't developing. So I thought it was a normal thing," Gina told Joy Prime.
Soon after, she went back to school. Gina dreaded the worst after two months of missing her period.
Gina did not tell her mother or the aunt with whom she stayed that she was pregnant.
But in her fifth month, her teacher, who had learned about it, could not keep the issue away from the family.
"I went to the hospital after missing my menses for two months, and they told me I'm pregnant. I didn't tell them (the parents) myself. Getting to five months, my madam said where my pregnancy is getting to, she needs to tell my parents. She first said I should tell them, but I told her I'm scared, so she should help me tell them. She called my grandpa and told him," he indicated.
She was thrown out of the house and asked to go and stay with the one who got her pregnant.
So she packed out and went to stay with her 22-year-old boyfriend.
"My aunty, who I was staying with, threw my things away. My grandpa told her that she should have patience, but she said she would not allow me in her room with the pregnancy. My grandpa went on his knees and begged, but she gave me days to go back again. She told me I should leave her house before giving birth," the young mother added 
Gina yearns to return to school to prepare for the final exams.
But she fears that without support, that will be a mirage.
"I know I've made a big mistake; that's why I was thrown out of the house. It's a big mistake, but I need someone to help me so that I can further my education and be enlightened in the future. I want my future to be the best for me," she added.
The 17-year-old mother is one of three schoolgirls featured in Joy Prime's documentary, "Classroom Mothers", produced by Emmanuel Dzivenu.
The piece explored the startling figures of pregnancy in senior high schools as well as the frantic efforts of stakeholders to keep these pregnant girls and young mothers in school.
According to the senior housemistress at Adidome SHS, Mercy Dzifa Afi Akwada, an average of 10 schoolgirls get pregnant every academic term.
Among other factors, she believes low sex education partly results in misconceptions about sexuality among school children.
She said, "Averagely a semester, about 10 girls get pregnant. Even in these first years, as they came to school, two of them were pregnant. We were able to handle it. They have given birth, and they are back to school."
Pregnancy among schoolgirls is a global concern, and it is one of the gender-related barriers that prevent girls from completing their education. While pregnancy affects schoolgirls in different ways, the main difficulty is their inability to continue schooling during pregnancy and after childbirth.
"The government has made it a policy that since they have become pregnant, they need to come back. They go and give birth, then come back. So we calm them down, and we monitor them. I monitor their antenatal care and their food. Sometimes, I do give them food if the need be, we give them money if the need be; and then the parents also come in, and when it is almost time for the child or the girl to give birth, we allow the girl to go home, give birth, and, in 3 months' time, the girl comes back to school. So we have a lot of them that do come back. Just a few decide not to come, but a lot do come back and write their papers or continue with their schooling and then go," the senior housemistress added.
Over the last five years, the Ghana Health Service District Health Information Management System reported that more than 500,000 schoolgirls became pregnant.
Over 13 thousand girls that got pregnant are between the ages of 10 and 14, while some 500 thousand are between the ages of 15 and 19.
In 2018, the Ghana Education Service, through the Girls Education Unit, developed a policy framework to help address the problem of pregnancy among schoolgirls.
The policy, among other things, is to ensure that girls who are pregnant get a second chance to continue their education during pregnancy and after childbirth.
Prior to its introduction, school heads used their own discretion to allow pregnant girls or teenage mothers to remain in school.
As a result, some girls dropped out of school due to stigma, while others were asked to withdraw by their school heads.
Despite the progress made, there are still some obstacles to achieving universal enrollment. The role of parents and guidance is crucial in ensuring no girl is left behind.   
Headmaster of Adidome SHS, Dr. Vincent Atiku, called for a concerted effort in providing supportive environments for pregnant schoolgirls and young mothers by reducing stigma and discrimination against them.
"The fact that they're pregnant doesn't mean they can't continue learning, and the pregnancy is for a period. After that period, they should be able to return to school to continue with their education. GES has this policy and has educated all heads of senior high schools, even those in basic schools, because pregnancies are occurring in our schools.
"GES said we should accept these girls in our school and educate the community about the support they need. Formerly, it wasn't so; if you got pregnant, you were supposed to be dismissed or sacked, but GES saw the wrong we were doing to these girls, so they came in, and now we are to accept them, and that is what we've been doing since," he said.
 Gina is determined to succeed. She is focusing on the brighter side of life and vowed to override the challenges to become a police officer.
DISCLAIMER: The Views, Comments, Opinions, Contributions and Statements made by Readers and Contributors on this platform do not necessarily represent the views or policy of Multimedia Group Limited.
[Source: MyJoyOnline.com]
Liked this Article? You can share with others via various social media platforms. Got some information to share with us?
Send us your articles or advertisements enquiries via editor@mynewsghana.com.gh