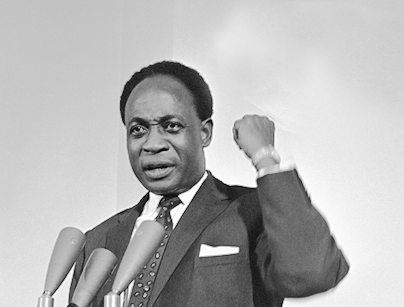 Ghana's first president, Dr Kwame Nkrumah is famed in Ghana's political history for his firm belief in socialism.
Through his state-led infrastructure and economic reform policies, the man who led Ghana's anti-colonial struggle is widely accredited by the history books as a political figure who did not accommodate neoliberal and capitalist ideologies.
Many of the companies which existed under the Dr Nkrumah's regime were largely state-owned corporations which affirmed the widely held view that Nkrumah was a socialist.
However, an emerging account from one of Ghana's pioneering foreign servicemen suggests that Dr Nkrumah may not have been an ideological extremist as many socialists see him to be.
A 99-year-old ambassador Emeritus Maximillian Akwei, speaking on Foreign Affairs with Blessed Sogah, on JoyNews recounted how an American business mogul and capitalist, Edgar Kaiser, after reluctantly investing in the Aluminum industry in Ghana, became very close friends with Dr Kwame Nkrumah.
Mr Akwei said that the businessman told servicemen working at the Ghanaian Embassy in New York why he believed Nkrumah may not have been socialist to the core.
"During the time of Eisenhower, something happened, which is not very well known. But some of my friends know Mr. Gbedema, who was then the Finance Minister, came on a mission sent by Nkrumah. Nkrumah had the idea of transforming Ghana almost overnight. That was one problem with him as a person. Whenever he wanted something, he wanted it done almost immediately. Now, he was a socialist. America was the leader of the capitalist world, Western world. But Nkrumah was a realist."
"He knew and saw that where the money was, was America, although he was a good friend of the Soviet Union. Then he sent Gbedema to America to look for funds to finance the Volta River project, which had been shelved by the British, but revived when he became President."
"So Gbedema came and he was travelling from Washington to New York on the highway, and he stopped at Howard Johnson, which was then the restaurant with a franchise of cafes on the road to New York. And he was denied entry into the cafe because he was black. They said they wanted just stop for a cup of coffee. They said, no, you know, you go on."
"We were in the embassy in Washington and the following day all the TVs and the newspapers were like 'Ghanaian Minister of Finance discriminated against'. It was a disgrace for America. And apparently, the White House felt they had to do something. So we were in the embassy when the call came from the State Department that the President wanted to speak to Mr. Gbedema. To speak to him. What? What do you mean? They said we wanted to invite him to breakfast."
"So when Gbdema returned from New York to Washington, we told him about it and the State Department arranged everything, and we went to have breakfast with the President. Eisenhower at the time. Who just wanted to apologize on behalf of the United States to Mr. Gbedema to tell him that he should not draw too many conclusions from his experience and that America was a good friend. He wanted to be a good friend."
"They had some naughty heads. They were working on things and he should not despair about friendship with the United States. So we asked him, what are you here for anyway, Mr Finance Minister? He said Well, my President sent me here to find money. He has a big project in mind. He wants to have money. I was going into New York, where the financiers are, to talk to them, to see if we can get something from them to help build the Volta project. So he said, Well, is that all? He said, Well, Mr. President, that's it."
"My President is a socialist, but he knows the money is here. So he said, Well, just hold on a minute. He picked up the phone in the presence of Mr Gbedema and rang his friend, Edgar Kaiser, who was then the head of the biggest aluminium company in California."
"He said, Well, Edgar, these business people, they are friends of the President. Probably they have given a big donation, you know, to finance his campaign. So He said Edgar, I have a friend for you here. So I want you to help him. So this was the beginning of a friendship between the Kaiser Aluminum Company and Mr. Gbedema. And the follow-up was to introduce the subject to the State Department for the State Department to introduce it to the World Bank, where America was in charge to help Ghana."
"So, when you read about the Volta Project, things were happening from little origins and then they blossomed, the friendship developed between Edgar Kaiser, one of the chief capitalists in America, with the President (Nkrumah)."
"The embassy was the conduit where messages were sent between the two of them, and they became very good friends. Edgar Kaiser used to come to the embassy to tell us, 'You know, your President, I don't know. I'm here to produce aluminium and make money. I'm told that he's a socialist, but I didn't see anything socialist about him. He wanted money just like me. And he was ready to take action. What he appreciated most was that he could get decisions taken faster when he came to Accra. Then writing letters and communications, you know, between the embassy and Edgar Kaiser," the ex-diplomat recounted.
DISCLAIMER: The Views, Comments, Opinions, Contributions and Statements made by Readers and Contributors on this platform do not necessarily represent the views or policy of Multimedia Group Limited.
[Source: MyJoyOnline.com]
Liked this Article? You can share with others via various social media platforms. Got some information to share with us?
Send us your articles or advertisements enquiries via editor@mynewsghana.com.gh